New Website launched dedicated to the Origenes Maps!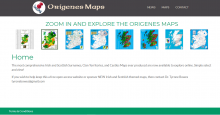 In 2021 Scottish and Irish Origenes launched a new FREE website (www.origenesmaps.com) dedicated to the Origenes maps series, where one can zoom in and explore the surnames, clans, castles, and DNA maps of Scotland and Ireland. The maps are exclusive to the Origenes Maps website (they are not available to view anywhere else). The maps are the most accurate ever produced, and have the added benefit of being designed for use with commercial ancestral DNA test results.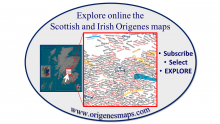 Simply select the map to view, and EXPLORE! At present there are 8 maps to select from (more will be added) and there are accompanying blogs demonstrating how to use the maps with your commercial ancestral DNA results (Y-DNA, Autosomal and mtDNA).
There will be no more print runs of the Irish or Scottish Origenes maps (we live in an environmentally friendly digital age). So, if you would still like hard copies then you can purchase them while stocks last (click here). In future maps will only be produced individually upon request (which is more expensive). 
Simply click www.origenesmaps.com, select and EXPLORE!