The 'Scots Irish' E-M35 DNA Marker (April 2023)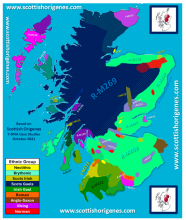 THE hundreds of Y-DNA Case Studies completed at Scottish Origenes have facilitated the production of the Scottish Origenes ethnicity map (pictured). Each Y-DNA Case Study has a pinpointed origin and has been characterised based on more distant matches that reflect older shared ancestry. For example, those with more distant genetic relatives with earliest recorded ancestral links within the Rhine River Valley have a Celtic/Gaulish origin. In contrast, those with earliest recorded links within Scandinavia have a Viking origin.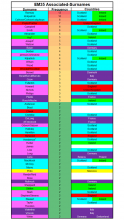 One such marker common among Scots is E-M35 which is exotic for Scotland and is most likely of Roman origin. The 'E-M35' mutation is believed to have first appeared in East Africa about 22,400 years ago. At present there are over 700 males who have tested positive for the E-M35 in FamilyTreeDNA's commercial Y-DNA's STR database. Although the database is overwhelmingly representative of US citizens, the surnames of the males that carry the E-M35 marker are not random, surprisingly they are dominated by individuals with  recorded links with Scotland or with Scottish surnames, like Ramsay, Kirkpatrick, and Colquhoun, many of whom have also record links within Scotland or Ireland (see accompanying images). Similarly, those E-M35 Scottish-associated surnames concentrate in Central Ayrshire (see accompanying image).

Central Ayrshire is not an area associated with Roman settlement, and it raises the possibility that E-M35 is associated with refugee Gauls or possibly even later arrivals within Scotland. 
CHANCES are that if you are an American male with the E-M35 marker and have a Scottish-associated surname, then your paternal origin leads back to Central Ayrshire or surrounding areas within Southwest Scotland. You can read the full Scottish Origenes E-M35 marker report by CLICKING HERE.
THE identification of Central Ayrshire as the epicentre for Scottish E-M35 has helped solve the mystery relating to the origin of E-M35 descendants of Rev. James Keith who went to Marischal College in 1657, and whose father Alexander Keith jr. went to Ireland in 1650. Many Scots passed through Ireland after the Plantation of Ulster began in 1610AD. In was in Ulster in the north of Ireland where these 'Scots Irish' would learn the skills needed to colonise the Americas.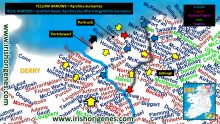 Today, the descendants of those Plantation Scots can still be found farming the lands where their Scots ancestors first settled within Ireland. The surnames of those Scots are found on the first ever Plantation Surnames of Ireland map.
THAT map reveals 2 distinct groups of Scots Irish Keiths in Counties Cavan and Derry/Londonderry. These Scots Irish were a cliquey bunch who had departed as close-knit family groups to settled together in Ireland (something they would repeat when leaving for the Americas).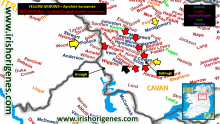 As a result, research at Irish and Scottish Origenes has revealed that the surnames in each location on the Plantation Surnames of Ireland map mirror those of their Scottish origin. An examination of the Scottish surnames that surround the Keiths of Cavan and Derry/Londonderry reveals surnames that are associated with the E-M35 heartland of Central Ayrshire (pictured). These results reveal that Alexander Keith jr. had lived in either County Cavan or County Derry, and that he had settled there after leaving Central Ayrshire in Southwest Scotland. You can read the Scottish Origenes study on the origin of the Keiths of Ulster by CLICKING HERE.
What will your DNA reveal? Contact Scottish Origenes for a FREE consultation CLICK HERE.