DNA uncovers a 400 year old family secret!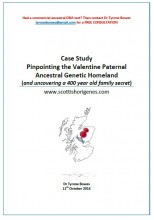 I've been busy recently doing Case Studies and working on a Surnames and Y-DNA Map of Scotland (previewed here). But this Valentine Case Study is one of my all-time favourites and I'd like to share its results. It details a 400 year old family secret that was only uncovered as a result of a simple painless commercial ancestral DNA test. Over 400 years ago the test subject's ancestor was a wanted man who needed to change his name and flee his homeland.

The present family knew absolutely nothing about their connection to  a famous battle and historical event! The full Y-DNA Case Study can be downloaded by clicking here. If you have any questions or would like a FREE CONSULTATION on your DNA results or you would like to know how to participate in ancestral DNA testing then contact me here. Pictured is Dr Tyrone Bowes (left) and test subject (Ross Valentine).